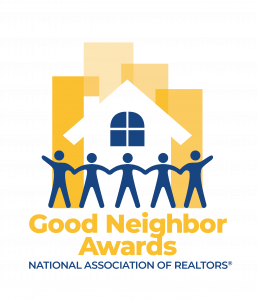 NAR's Good Neighbor Awards recognize REALTORS® who have made an extraordinary impact on their community, or on the national or world stage, through volunteer work.
Five winners are announced each fall in REALTOR® Magazine. Winners are recognized annually at the REALTORS® Conference & Expo, and receive $10,000 grants for their charities. Winners also receive travel expenses to the conference and national and local media exposure for their community cause. In addition to the winners, five honorable mentions each receive a $2,500 grant.
The Good Neighbor Awards was launched in 2000 and has since recognized 200 REALTORS® for their service to their communities. Through Good Neighbor Award grants and associated programs, Good Neighbor charities have received more than $1,300,000 in donations. In addition, each winner receives national and local publicity, which generates additional donations and inspires new volunteers to get involved. Many REALTORS® are also recognized for their community service through state and local real estate associations.
This year's Good Neighbor Award deadline is May 7, 2021. Nominations are received from REALTORS® around the country, as well as through local and state Good Neighbor Award programs that serve as feeders to the national program. Applicants must be members of the National Association of REALTORS®.